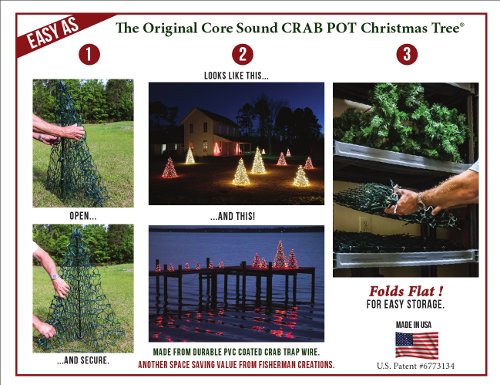 The weather is finally getting cooler and the holidays are quickly approaching.  I love this time of year and all the great decorations that are displayed in my area.  Our family has a tradition of driving around the different subdivisions in search of our favorite Christmas decorations.  Do you usually decorate your front yard?  We love to display lights in our front yard.  The kids are thrilled to come home at night to see the twinkling Christmas lights in our decorated front yard.
This year we are going to add a new display to our front yard Christmas scene.  We are getting a Crab Pot Christmas Tree, have you ever looked into one of these for your home?  Crab Pot Christmas Trees are remarkable, perfectly shaped trees that come pre-lit.  They easily fold flat for storage, sparkle from EVERY angle and are very easy to set up.  Do you know what makes these holiday trees so unique and the MUST HAVE of the season for home decor?  Crab Pot Christmas Trees are made from the very durable PVC Coated Crab Pot Wire which withstands all that Mother Nature can throw at it. Would you like to see these fold flat Crab Pot Christmas Trees? Make sure to check out the fold flat trees in the following video, because seeing is believing.  Once you watch this video, you'll see how you can make the season sparkle with ease.
The holidays are always hectic and decorating takes time, but Crap Pot Christmas trees make decorating a snap!